The MDH Hospice Inspires Invention
Category: News
Posted On:
MACOMB, Ill. - The term 'hospice care' often bears an invisible weight, the weight that the loss of a loved one is approaching. For Robert (Bob) Gore, a mention of the MDH Hospice conjures grateful memories and the origination of invention.
Bob's mother, Eldora, had been, in his own words, "stubbornly insistent" upon remaining in her own home during her final years, but she also realized an added level of care was necessary to make that a reality.
After several visits by an MDH Home Health professional, Eldora learned the philosophy and practice of both home health and hospice care and as her knowledge grew, her anxieties waned.
The services provided by MDH Home Health Care would allow her to continue living at home and receive prompt, professional medical care from individuals she could trust.
When Eldora's health began to decline, hospice care became the right choice as the focus turned to care and not cure.
One of the goals of the MDH Hospice is to promote confidence in families providing care for their loved ones. Throughout the course of hospice care, Bob tended to his mother alongside hospice staff, diligently fulfilling needs and requests.
No one knew this focus on promoting caregiver confidence and commitment to quality of life would spark inspiration leading to a patented product created to ease the lives of patients and caregivers alike.
Answering a simple request to help his mother sit up in bed, Bob obliged but found he was at a loss at how best to re-position her without causing discomfort.
Then, as he describes, "Along came an angel named Etta, a nurse's aide from the MDH Hospice."
Etta proceeded to demonstrate how best to fulfill this request by grasping the two corners of the incontinence bed pad lying beneath the patient and pulling into place. But she also provided a word of caution: to ensure he had a firm grip to avoid sudden or uneven movement causing pain, injury, or discomfort.
Over time, Bob learned more about routines and requirements of palliative care. He observed and learned from hospice professionals as they masterfully delivered clinical care in a non-clinical environment.
After encountering a myriad of tasks which could be improved with one change in equipment, an idea blossomed into a plan: develop a safer and more secure product to aid the patient while safeguarding the caregiver in a way that maximizes abilities and minimizes injuries.
Bob recognized a solution: an improved pad made with handles or reinforced hand-holds.
Further research showed handles simply wouldn't do, as the potential risk of a patient developing ulcers or bedsores from contact with the handles was too great. But the idea of reinforced hand-holds would maintain the integrity of a safe bed pad while also offering the patient a greater sense of comfort knowing the caregiver, whether a professional or a family member, had a safer grasp when assisting.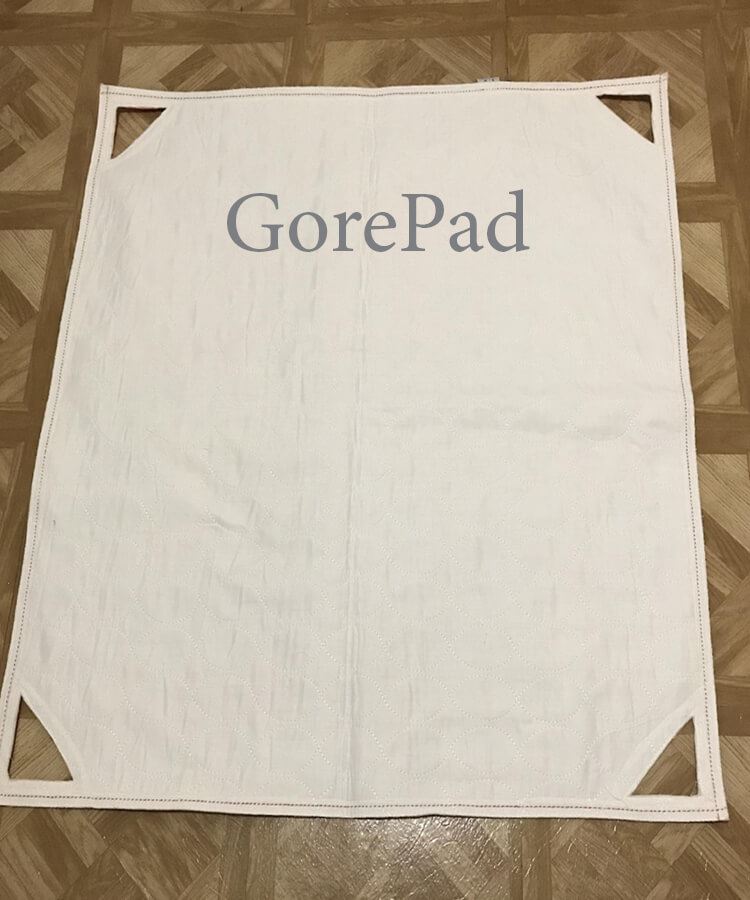 With an idea and a plan, Bob got to work developing prototypes, filing with the U.S. Patent Office, and negotiating with manufacturers.
After months of effort and diligent planning, the patented GorePad is now available for the medical community and individuals alike at 
MTS Medical Supply
 as well as 
Amazon.com
.
However, this invention serves as more than a tool to improve patient care. Bob hopes to emulate his mother's generous spirit by donating a portion of the proceeds back to the MDH Hospice.
"Mom was so grateful for the love, kindness, and professional standards demonstrated by each and every member of the MDH Home Health and Hospice teams. She was a giving person, caring for her husband, her parents, her brothers, and her sister. As the GorePad progressed from an idea to a reality, it was apparent that to fulfill mom's philosophy in life, some portion of the proceeds produced by the GorePad would be provided to the MDH Hospice efforts," he shared.
The MDH Hospice has already purchased several GorePads as part of a commitment to focus on quality of life and providing enhanced care and comfort to both patients and their families.
MDH 
Home Health 
and 
Hospice 
serves patients in McDonough County and parts of Fulton, Henderson, Hancock, Schuyler, and Warren counties. For more information about these services or the GorePad contact
(309) 836-1544
or visit www.MDH.org.