Marc Kessler, World Champion
Category: News
Posted On:
Following in his older brothers Mitchell and Matt's footsteps, MDH Athletic Trainer Marc Kessler began weightlifting at a young age. What started from working out in his parents' basement has transformed Marc into a World Champion.
Kessler competed for Team USA in the World Drug-Free Powerlifting Federation meet in Henderson, Kentucky. Over the three days, Kessler brought home Gold in the squat, bench, and deadlift. 
"This was a single event, you could choose what event you wanted to compete in (one, two or all three). Since this was my first World meet I decided to go for all three. It's both age and weight category," said Kessler. "There were 9-10 different countries represented. France, for instance, represented well in the bench press."
Competing in the 145 kilogram weight category (276-319 pounds), Kessler recorded a squat of 606.3 pounds to bring home the title.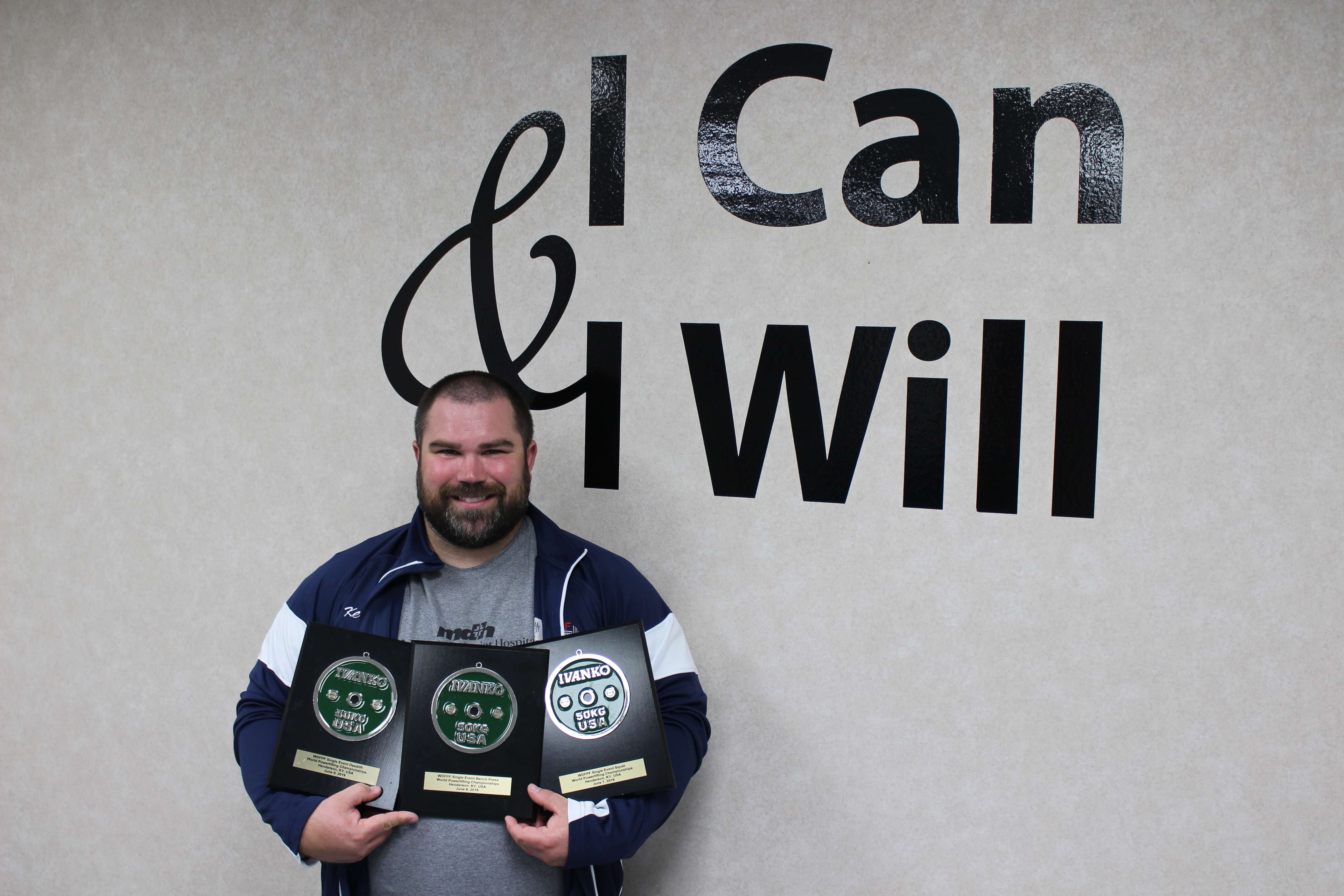 "The first two (lifts) felt good, so I jumped 55 pounds to my third and won. The next day was the bench press, that's my day."
He did not disappoint. 
"I was ready to show up and take that title. I felt good during my first lift of 457 pounds. I go over for my second lift and on the board was a competitor who chose the same weight (501.6 pounds). We're both going to do the same weight, now I realize this guy could be taking my crown," stated Kessler. "He missed his second attempt. I got mine but was called on a technicality because my foot slid out. We both stayed at the same weight, he missed again and I got the 501 pounds again. It was kind of nerve-wracking and exciting once it was all done."
When Sunday rolled around, Kessler knew he wanted the sweep. 
"After I got day two out of the way, I said I have to complete the sweep. You have these guys who may just show up for day three, who you haven't seen day one or two and they may be a phenom in the deadlift.
"I opened up with a 500 pound lift, had no problems; I jumped 56 pounds for the next one which I did pretty easily. I wanted to go for an all-time, just lay-it-on-the-line, best lift I ever did… I went for 600 even but I could not quite get it (winning with 556 pounds). Luckily I had enough in the tank to sweep all three events." 
Team USA boasted of lifters ranging from age 16 to Masters in their 70s and 80s. Kessler will be making one change though as he looks ahead to setting records at next year's national competition, which could be held right here in Macomb.
"I've competed in the 145 kilo and 125 kilo categories. I think I'll drop down to 125. Looking at the World Records in that age/weight, I'm only 12 pounds away from my best event bench lift and the squat record is just 20 pounds away." 
His work as the athletic trainer for the Macomb Bombers keeps Kessler busy throughout the school year. He's at the school before practice to see if any student-athletes need treatment, he can also be seen along the sidelines or bench area on game days making sure they receive the best care possible.
Kessler usually trains 3-4 days out of the week lifting at Macomb High School, and in the weight room the MDH staffer and now World Champion enjoys helping the younger Bombers become better athletes through weight training. 
"I always try to encourage them. I'll tell them, think of an area you're weak at in your sport. I tell them this lift or that lift will help you. Look at the pro athletes and the dedication they have. I hope the fact that I'm in there every day opening the door, and they see me do this stuff, it motivates them."
To learn more about the MDH Sports Medicine and Rehabilitation Services, log onto www.MDH.org.